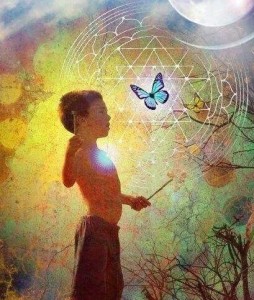 I remember being at the Chopra Center in Carlsbad, CA. I saw an interview with Deepak Chopra on the T.V.  The interviewer asked, "If there is one piece of advice you would give me before you leave, what would that be?" And Deepak said, "Be in love; stay in love."  Because when you are in a state of love, even if it is a state of being in love with yourself, that is bliss.
I live in love, I live my bliss, I live on purpose.  And I want you to do the same.  Reach down inside yourself, and find that "happy place."
One of my happy places is running in a field of daisies chasing butterflies with a big butterfly net.  I never catch them, but it is fun just running around in the sun and falling down in all those flowers.  Some days I become the butterfly, and float on the airstreams avoiding the net that everyone else wants to put over me.
That is what we need to do.  Avoid the doubt, the judgment of others, and the limitations you created in your mind.  When you awaken your true self your desires change. You start to want what is actually good for you (and this fuels personal evolution). You're on "the path" that you were always meant to be on.  When your actions have purpose, everything else in your life lines up with that purpose.
Love, Helen Berg, www.helenberg.com